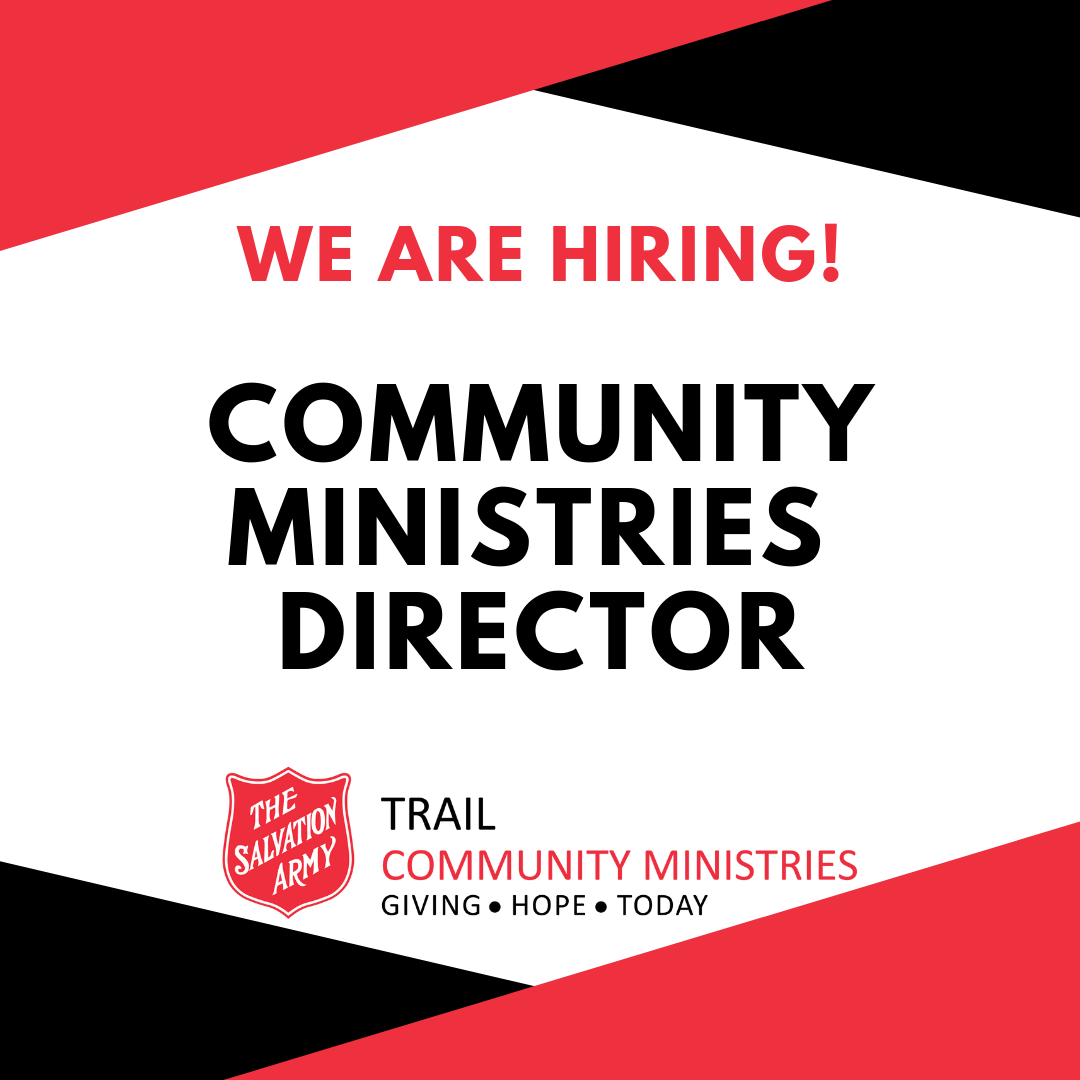 26 Aug

We are Hiring!

The Salvation Army in Trail is entering an exciting new season. In the coming weeks and months, we will be sharing some of the new and exciting ways that we are adapting and changing the way we continue to serve the community of Trail.

To kick off this new season we are hiring a new position. The community ministries director will be an integral part of moving our unit forward.

Please see below for the job description. We would love for you to share this with anyone who you know who may be a fit for this job and loves to serve their community.
DESCRIPTION
The Community Ministries Director oversees the day-to-day operations of the Trail Community Ministries (thrift store, food bank, soup kitchen, and client support) ensuring the continuity and further development of these services.
HOURS:
Full-time / Permanent, 40 hours per week
KEY RESPONSIBILITIES:
Oversees daily Thrift Store operations ensuring sales targets are met and expenses controlled.
Oversees daily operations of Community & Family services (including the Food Bank and meal program) ensuring that both equity and organizational values are upheld.
Assist in amalgamating teams (Thrift Store and Community & Family Services) for our new building structure; create a culture of unity and exceptional care along with support from Corps Officers.
Hires staff and provides their subsequent orientation, training, and evaluations (PEAC reviews) while also providing coaching or required disciplinary actions.
Recruits, trains and maintains volunteer records.
Manages health & safety, accreditation standards, labour/employee relations and other related issues at an operations level.
Ensures in-store safety for staff and customers (e.g., snow removal, clear fire exits, no obstacles inside/outside store, cleans spillage and maintains store cleanliness dealing with volatile situations); ensures that the property is secured at all times.
In partnership with Corps Officers, establish and manage Community Ministries budget within guidelines; executes budgetary objectives by attaining sales margins, maintaining staffing cost ratios, and profit objectives.
Analyzes Community Ministries financial statements and strategizes appropriate action to attain financial goals, monitoring the cost of goods (i.e., buying products from the warehouse, tracking costs associated with the product, etc.); sends requested reports to Divisional and Regional offices.
Supports seasonal programs operation (e.g., Christmas Hampers).
Performs other duties as assigned.
QUALIFICATIONS AND EDUCATION REQUIREMENTS:
Education/Certifications:
The successful job applicant will have completed High School.
Additional post-secondary education (e.g., diploma) related to retail, business, operations or social services would be an asset.
Experience:
Three years but less than five years of prior related experience including store management or social services experience.
Required Skills/Knowledge:
Excellent leadership skills and ability to communicate comfortably with staff, volunteers, clients, and community partners.
Exceptional organization and timekeeping skills.
Creative thinking and problem-solving: able to create holistic programs that meet the communal need(s).
Awareness of, or willingness to learn, trauma-informed care, non-violent intervention, and social determinants of health.
Experience with Microsoft Office.
Experience utilizing online data databases/programs; highly efficient computer user.
Preferred Skills/Capabilities:
The performance of the job requires the ability to work independently and under pressure while ensuring the functionality of the ministry. The successful incumbent will be an optimistic and hard worker, ready and able to lead a team through transition with kindness, compassion, and efficiency.
Successful candidates, prior to hiring, may be required to provide:
Background check consent.
A clear vulnerable sector screening.
A clean driver abstract.
Completion of our online Armatus Abuse Training and required Health and Safety training.
To apply please contact us with your current cover letter and resume.
We thank all applicants, however, only those candidates to be interviewed will be contacted.
The Salvation Army will accommodate candidates as required under applicable human rights legislation.   If you require a disability-related accommodation during this process, please inform us of your requirements.
We thank all applicants, however, only those candidates to be interviewed will be contacted.
Internal Applicants, please advise your managing supervisor of your intentions prior to submitting your application.